What do the global critics and experts who voted in our poll have to say about their top picks?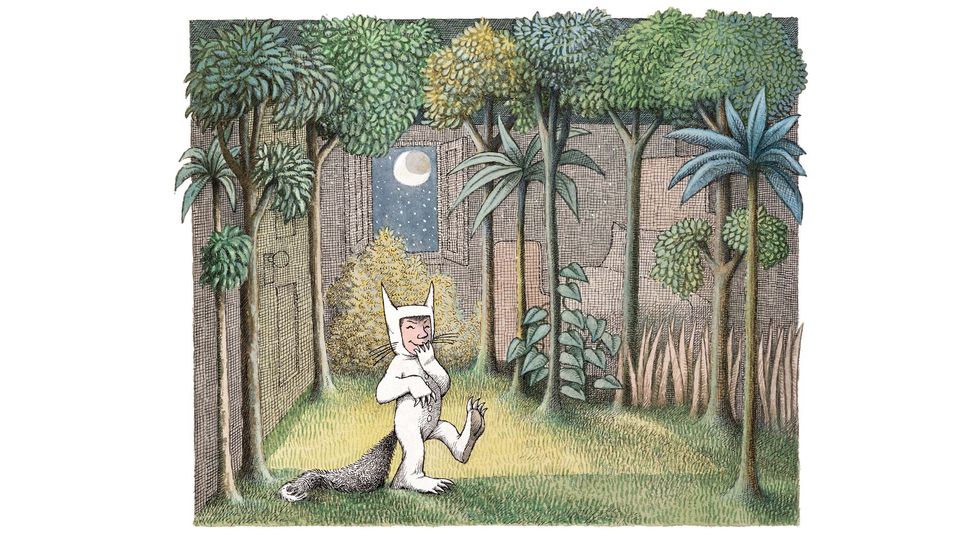 (Credit: Where the Wild Things Are copyright © 1963, renewed 1991, by Maurice Sendak)
1. Where the Wild Things Are (words and illustrations by Maurice Sendak, 1963)
With its perfect symbiosis of words and pictures, the classic Where the Wild Things Are topped our poll of 100 greatest children's books. First published in 1963, and still loved all over the world, Maurice Sendak's powerful, stunningly illustrated book tells the tale of Max as he goes on a journey of discovery, encountering the "wild things". It is a fable that is both dark and ultimately uplifting. "If I was leaving for a desert island and there was only one book to take away, it would be this one," says Marie Wabbes of the Belgian Francophone section of the International Board On Books for Young People (IBBY). "It understands childhood, the angry child, the attraction of power and the immensity of maternal love." Quek Hong Shin, the Singapore-based children's author and illustrator, describes it as, "a great children's book about anger, self-discovery, and a mother's love for a child". While Rose Green, a US editor, says: "No childhood is complete without a Wild Rumpus! The quintessential story of losing your cool, taming your monsters, and coming back home to find your supper is still hot." Ireland-based author Clara Kumagai recalls how, reading the story as a child, the monsters scared her. "But I still loved them," she writes, describing the book as "an epic that manages to combine fear, courage, love, and loneliness in less than 350 words and 40 pages. It's lyrical and unexpected, and each page does exactly what a picture book should – it surprises and delights."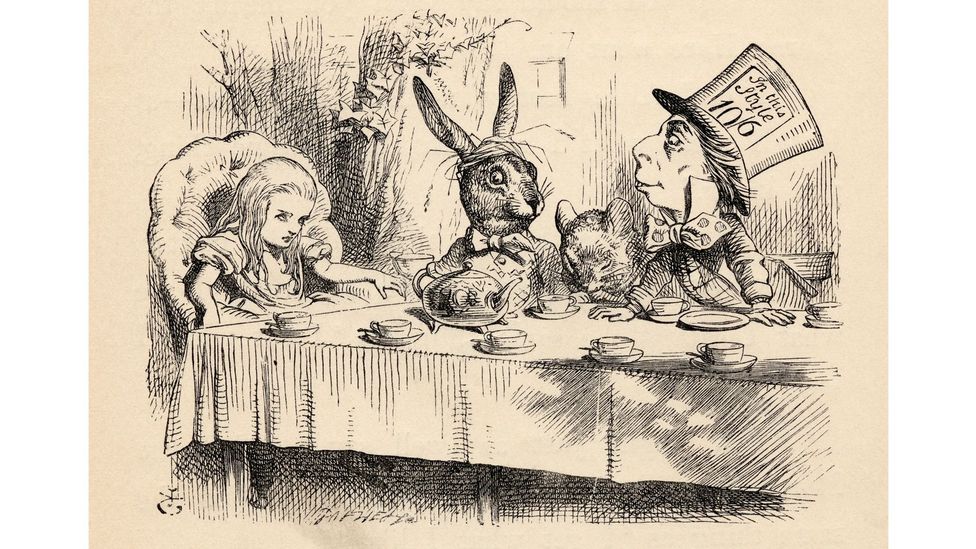 The surreal world of Alice in Wonderland as portrayed by illustrator John Tenniel (Credit: Getty Images)
2. Alice's Adventures in Wonderland (words by Lewis Carroll; illustrations by John Tenniel, 1865)
Among the most iconic works of children's literature, Lewis Carroll's Alice's Adventures in Wonderland (more widely known as Alice in Wonderland) tells the logic-defying story of a girl named Alice who falls down a rabbit hole into a fantastical world full of anthropomorphic creatures and surreal scenarios. The book has had a huge influence on popular culture, been translated into many languages, and adapted into ballets, operas, films and more. UK film and culture writer Lillian Crawford writes: "We owe our dreams to Lewis Carroll. [It is] the book which made me curious about the world and imagination, to which I will never tire of returning no matter how old I am." Ira Saxena, meanwhile, a children's author and book critic based in India, describes the book as "a remarkable fantasy tale, [with] utterly amusing characters, capturing the senses forever". Many voters commented on the book's enduring quality and universal appeal. The 1981 edition was illustrated by influential Slovak artist Dušan Kállay, points out Hana Krizanova of Slovakia's International House of Art for Children. Both the text and visuals are, she writes "iconic and captivating". And Theo Heras book reviewer and board member of IBBY, Canada,, sums the book up in two words: "Still magical".
Read more about BBC Culture's 100 greatest children's books:
The 100 greatest children's books
Why Where the Wild Things Are is the greatest children's book
The 21st Century's greatest children's books
Who voted?
#100GreatestChildrensBooks
3. Pippi Longstocking (words by Astrid Lindgren; illustrations by Ingrid Nyman, 1945)
Pippi Longstocking is a legendary protagonist – a spirited, non-conformist girl with a sharp wit and super-human strength, she has had a powerful influence on several generations since Swedish author Astrid Lindgren created her in 1945. The book has been adapted to both TV and film and is known across the world. Pippi is "anything but a saint", says award-winning French children's author Marie-Aude Murail, and she is "a breath of fresh air in the land of (overly) well-behaved children". Sophie Casson, Canadian children's book illustrator, writes: "As a child, I completely identified with the freedom this little girl carried out in every aspect of her being – Pippi does what she wants, when she wants, in the way she sees fit, very unworried about how she looks. Totally empowering for the little girl from the 70s. Pippi has a strong sense of what is right or wrong and fights for her views, and I think that stays an enduring legacy." French illustrator Pierre-Emmanuel Lyet says that the book's cover struck him as a child: "Pippi carrying a horse at arm's length, I thought it was so great! " And for culture journalist Cath Pound, Pippi was a role model: "Funny, feisty and delightfully eccentric, Pippi Longstocking is the girl I longed to be as a child."
4. The Little Prince (words and illustrations by Antoine Saint-Exupéry, 1943)
The Little Prince (or Le Petit Prince) is an elegantly illustrated novella about a boy who goes on a journey to visit other planets, on the way considering themes ranging from love and loneliness to friendship and loss. The tale continues to be popular all over the world, appealing to both children and adults. "This book is a classic that is still used in many education programmes," says Cameroonian children's author and playwright Joel Eboueme Bognomo. Monica Severs of Hackney Libraries, London, found the book eye-opening: "How wonderful for a very bored child (like I was) to be transported to space and visit planets inhabited by such a variety of characters. It appealed to my humanity, the good bits and the not so good. As a child, it gave me a different perspective of people, relationships and myself." Writer Gülsah Özdemir Koryürek, who is also the co-founder of Sifirdan publishing, Turkey, describes the fable as "a book of intellectual planets".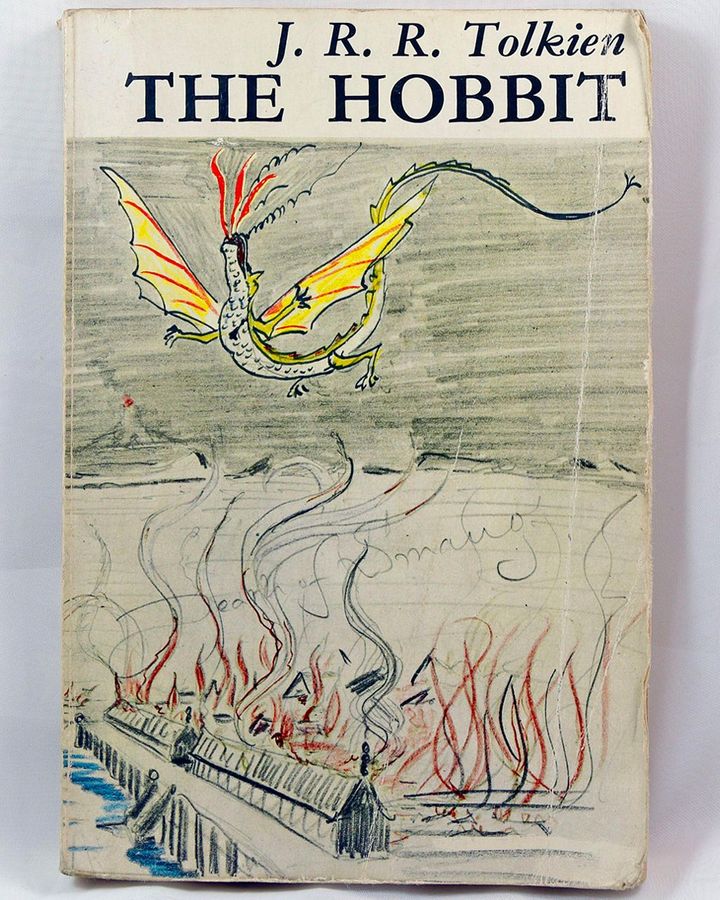 JRR Tolkien's own illustrations were used to accompany his text in The Hobbit (Credit: Alamy)
5. The Hobbit (words and illustrations by JRR Tolkien, 1937)
The classic fantasy novel The Hobbit is set in Middle Earth, and follows the journey of hobbit protagonist Bilbo Baggins, wizard Gandalf and 13 dwarves. On their episodic quest to reclaim the dwarves' home and treasure, they encounter conflict and danger, and Bilbo gains a new level of maturity and wisdom. Bilbo Baggins is, says UK-based illustrator Jim Kay, "an unlikely, diminutive protagonist in a beautifully realised world" – the novel is "still a joy to read, and it rattles along at a wonderful pace". Children's author and broadcaster Chris Smith credits The Hobbit with leading him to a whole new world of reading: "Not only is this an amazing story for children, it's also the ultimate gateway book because it unlocks the enormous world of [sequel] Lord of the Rings. When my teacher read us this book in year nine it blew my mind, and started me off on a reading journey that's still going strong, and still feels unexpected 40 years later." US author Christopher Paolini, meanwhile, describes The Hobbit as "a perfect fairy tale for young and old alike. Tolkien captured magic with this one".
6. Northern Lights (Philip Pullman, 1995)
The first of the trilogy His Dark Materials, the powerful Northern Lights is set in a parallel universe dominated by the Magisterium, where Lyra Belacqua – accompanied by her "daemon" – travels to the Arctic to search for her missing friend Roger and her imprisoned uncle Lord Asriel, who has been experimenting with a mysterious substance, "Dust". Pam Dix, chair of IBBY UK, recalls how the novel "exploded into the children's fiction world. Bringing together a multiplicity of concepts in a format that is more than fantasy, more than historical fiction, a new form". Lisa Sainsbury of the University of Roehampton says: "When Philip Pullman conceived of daemons and created a world for them, he conjured one of the potent metaphors of children's literature. Northern Lights (and His Dark Materials) offers the means through which to explore the mysteries of childhood and growing up, and renders these experiences through a bold expression of girlhood. Northern Lights makes childhood matter, long after we have moved into realms beyond it." Writer and journalist Beverley D'Silva praises the novel as "life-changing, cosmic storytelling".
7. The Lion, the Witch and the Wardrobe (words by C S Lewis; illustrations by Pauline Baynes, 1950)
CS Lewis's fantasy novel is the first – and the most celebrated – of seven novels in the Chronicles of Narnia. A land of talking animals and mythical creatures ruled by the evil White Witch, Narnia is the setting in which four English schoolchildren find themselves, after travelling there through a wardrobe in the country house where they are staying. Their adventures lead them to meet the lion Aslan. "With the publication of this book, we learned that we could enter another world through the back of a wardrobe, and our world was never the same," says US-based writer Ellen Kushner. While US author Christopher Paolini writes: "Step through this door into a new world… Isn't that the basis of so many stories? Lewis perfectly captured that feel, and his characters are lively and memorable, as is the land of Narnia. As with all great stories, the ending is a bit bittersweet, and leaves one yearning for more." The Lion, the Witch and the Wardrobe is "just a magnificent book", says Tine Nielsen of Babel-Bridge Literary Agency, Denmark, "with so many compelling characters, so many layers and so many memories that will stay with you for the rest of your life".
8. Winnie-the-Pooh (words by AA Milne; illustrations by EH Shepard, 1926)
Set in the fictional Hundred Acre Wood, the beloved Winnie-the-Pooh follows the adventures of anthropomorphic bear Pooh, and his friends Piglet, Eeyore, Owl, Rabbit, Kanga and Roo. Its sequel is The House at Pooh Garden. "An unforgettable story of friendship" is how Theresa Rogers, professor of education at the University of British Columbia, Canada, describes it. "Winnie-the-Pooh, Eeyore, Piglet and the rest are affecting characters that young readers take with them throughout their lives (as have I)." Katrin Lilija, editor-in-chief of Lestrarklefinn, Iceland, also has happy memories of reading the book as she grew up: "Winnie the Pooh is a book I enjoyed with my father as a child. The innocence of Pooh bear has stayed with me since my childhood, along with some memorable solutions and misunderstandings he and the other animals in Hundred Acre Wood make. The story of Pooh is a book I read to my children." UK author MG Leonard is also a fan: "The humour [and] the perfectly observed idiosyncrasies of each character throughout these gentle stories about growing up are unsurpassed. I was read these stories, then read these stories, and have then gone on to read them to my own children."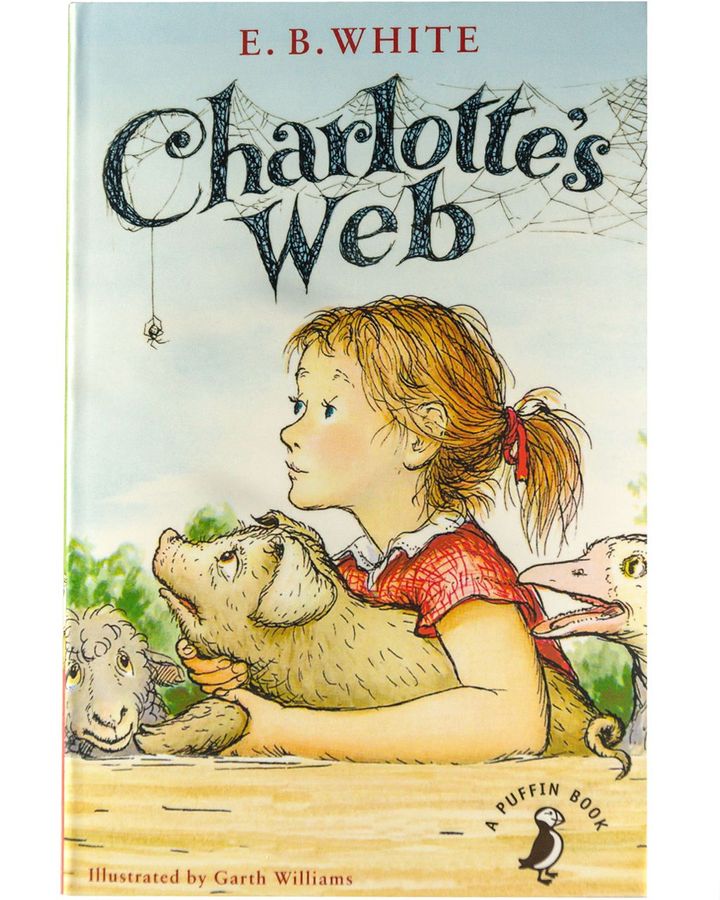 Charlotte's Web, illustrated by Garth Williams, does not shy away from dark themes (Credit: Alamy)
9. Charlotte's Web (words by EB White; Illustrations by Garth Williams, 1952)
American author EB White's brilliantly told tale centres on a farm girl's pet pig Wilbur and his friendship with a barn spider named Charlotte. When Wilbur is under threat of slaughter, Charlotte weaves messages into her web praising Wilbur in order to persuade the farmer to let him live. Themes including innocence, change and mortality are all addressed as the story unfolds. "This story struck my empathy cord very strongly in grade two when the teacher read it to the class," writes Canadian illustrator Sophie Casson. "A sad story ending was so new to my imagination, it jolted me forward into a feeling of emotional maturity. A perfect book to introduce big questions about life and death." Singapore-based author and illustrator Quek Hon also points to the grown-up subjects addressed in the book, describing it as "a book filled with giant themes for little ones". Kalpana Sunder, a journalist based in India, calls it "one of the most magical books, that takes the reader into a world where children and animals rule".
10. Matilda (words by Roald Dahl; illustrations by Quentin Blake, 1988)
The iconic Matilda Wormwood is a precocious child with cruel parents, and Dahl's much-loved novel follows her time in school, run by the sadistic, authoritarian Miss Trunchbull. Along the way, Matilda's remarkable intelligence is nurtured by her teacher Miss Honey, and disregarded by her parents and the tyrannical headmistress, as the story unfolds with increasingly extreme scenarios. The book's illustrations by Quentin Blake have become synonymous with the story, and all of Dahl's work. Matilda has been successfully adapted for stage and screen, and, decades after it was first published, continues to attract devotees across the world. "Is there a single bookish child in the world who wouldn't pick Matilda as one of their top 10?" asks David Robson, science writer and author. "Matilda teaches us that it's okay to feel different from the people who are closest to us, and the power of being true to ourselves." Culture writer Lillian Crawford describes Matilda as "the essential companion for bookish girls". And for the Children's Laureate of Wales, Connor Allen, Matilda "gives children hope, and above all lets their imagination run wild and enjoy a heartfelt story. One of the best stories and films for me as a child".
11. Anne of Green Gables (LM Montgomery, 1908)
Canadian author LM Montgomery's 1908 novel is blessed with one of children's literature's great heroines: red-headed, 11-year-old orphan girl Anne Shirley, who ends up living on a farm on Prince Edward Island, after being mistakenly adopted by a middle-aged brother and sister, when they had intended to adopt a boy. Headstrong, fearless, and highly intelligent, Anne is a figure that young readers have identified with through the ages, for the way in which she makes the best of everything in life, making mistakes but growing in strength and maturity as the story progresses. "Any girl who feels like an outsider, like she doesn't fit in, will find herself in the pages of this book. I loved Anne deeply. To me this story wasn't inside a book, it was real," says MG Leonard. "Anne's exuberance for life in spite of her difficult beginnings, her creativity and joy still inspire readers," agrees Theo Heras. It is also a book that has been "read and recognised globally," says Karin Lesnik-Oberstein, professor of English Literature at University of Reading. "A Canadian classic which has had a great influence on ideas of Canadian identity and Canadian landscape."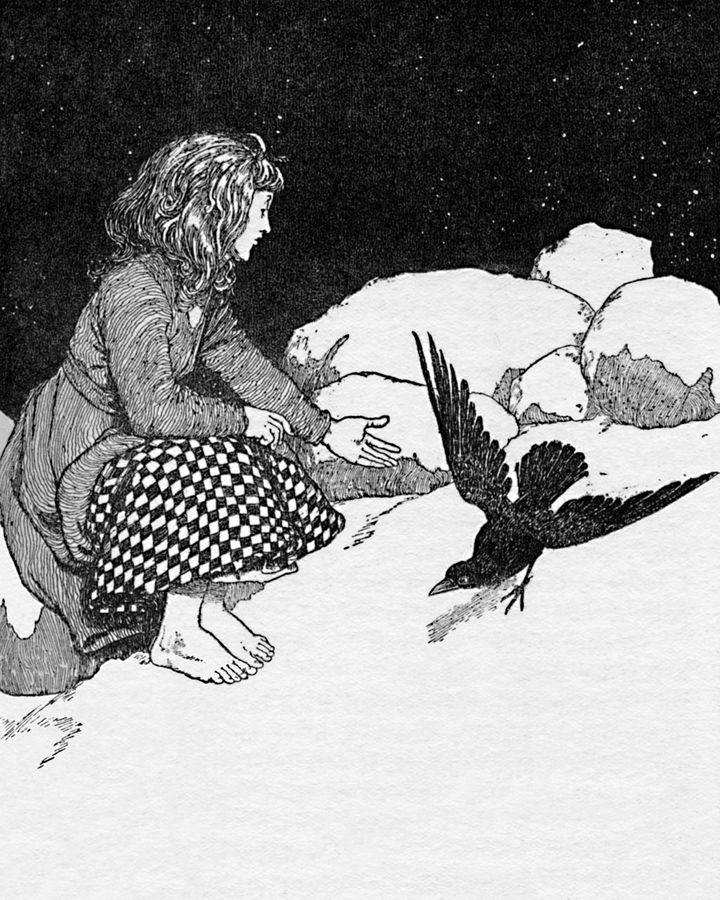 The Snow Queen, portrayed by W Heath Robinson in the 1930 edition of Hans Christian Andersen's Fairy Tales (Credit: Getty Images)
12. Fairy Tales (Hans Christian Andersen, 1827)
Are there any stories as seminal within children's literature as those of the 19th-Century Danish author? From The Emperor's New Clothes to Thumbelina to The Ugly Duckling, his imaginatively inspiring tales, perfect in their mix of light and shade, have gripped generations of children at bedtime and otherwise – transporting them to fantastical worlds while teaching them about ordinary human values like love, kindness and honesty. They've also inspired endless retellings in all artforms, right up to this month's loosely-inspired Disney live-action Little Mermaid blockbuster. "I especially appreciate the volume translated into English by Tiina Nunnally, since I don't read Danish, and many of the previous versions were translations of translations," comments Mexican writer and activist Sandra Cisneros. "Andersen's tales make me understand why he was so revolutionary in his day. I adore this book. I read it all the time as an adult, especially the marvellous The Snow Queen".
13. Harry Potter and the Philosopher's Stone (JK Rowling, 1997)
What more can be said about JK Rowling's tale of a boy wizard's adventures at magical boarding school Hogwarts, the beginning of an era-defining, internationally-beloved franchise? Published in 1997, with an initial run of only 500 copies – where its current sales stand at over 120 million copies worldwide – it has beguiled all ages with its parade of vividly-drawn characters and scintillating narrative twists and turns. Above all, what many readers have valued is Rowling's skill at immersing them in a world that was so fully-realised from the off. "It's the most influential book for my generation for sure," comments Hana Krizanova. "We grew up together with Harry, Hermione and Ron. Not so many books have left me in such despair that I can't be there with them." "Harry Potter and the Philosopher's Stone brought a new kind of magic to me as a young reader, and continues to reach new readers still today. The magical world of Harry Potter has expanded greatly, but the books will always contain the greatest experience," adds Katrin Lilija. Meanwhile US children's author Kathryn Erskine provides a personal touch in her commendation: "There's good reason that Harry's fight of good against evil captured the world's attention – it is creative, imaginative, and utterly engaging," she says. "And thank you, Jim Dale, for the audio books, so exquisitely done that you not only made the multi-day road trip doable, my family sat in our van in the hotel parking lot to hear the end."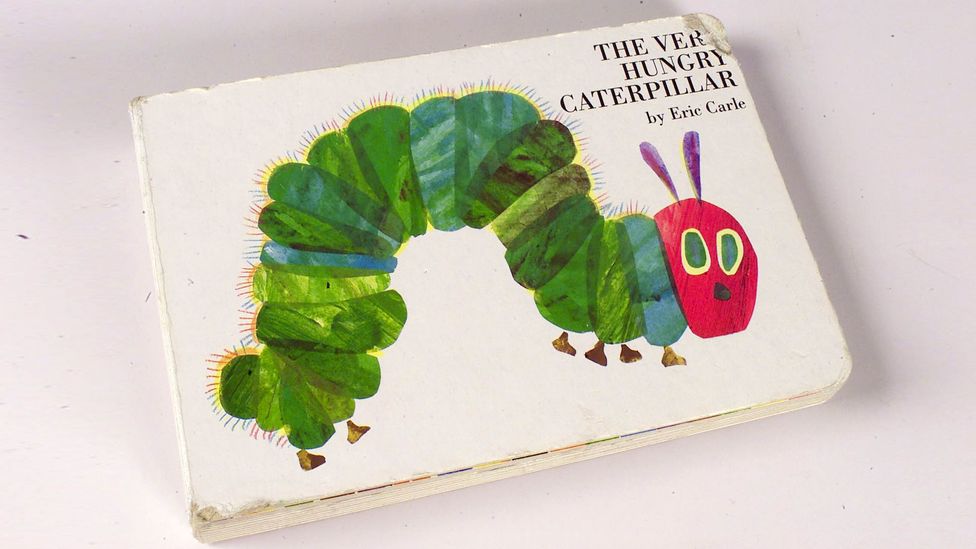 Eric Carle's classic The Very Hungry Caterpillar has delighted young readers ever since its publication in 1969 (Credit: Getty Images)
14. The Very Hungry Caterpillar (Eric Carle, 1969)
"How can a book so simple be so impactful?" asks Portuguese literary agent and editorial consultant Racquel Mestre of Carle's classic picture book about a very peckish caterpillar who consumes his way through a whole variety of comestibles until, in the climax, he transforms into… a be-winged vision. Perhaps it's that its narrative of metamorphosis and change over time is such a potent one, or perhaps it's to do with the universal joy of eating (it even has holes in its pages to represent the caterpillar's gnawing through the book). Ghanaian writer Nii Ayikwei Parkes has a particularly pleasing explanation for its appeal: "I have a niece that calls this 'the book with the hole in it', and I think that is precisely its charm," he says. "It allows every kid to find their place in it, which is what good books do." And there's that ending "which is fantastic, always surprising and full of joy," says Chilean author and illustrator Maria J Guarda, "a wide spread of a beautiful butterfly blossoming. It is always a pleasure to observe Carle's images, with bits of paper cut to form shapes, and a great balance of white with vibrant colours and textures."
15. The Dark is Rising (Susan Cooper, 1973)
Fantasy writing doesn't come more evocative than Cooper's beguiling novel of magic and mystery, in which a young boy, Will Stanton, experiences a profound disturbance on the night of his 11th birthday – leading to his realisation that he is the last of the ancient Old Ones, and a key player in vanquishing the forces of the Dark. Indeed, Australian writer and illustrator Anna Zobel reveals that the book "is on my desk right now, covered in post-its, because I'm using it as a mentor text for upper primary writing workshops. Cooper is a genius at evading exposition. Her language is so playful, too. She's the master of quiet metaphor, of personification, of inverted phrasing. In those same pages, the snow is 'thin and apologetic'; The lawn is 'a wide grey sweep'; the rabbits move 'twitch-nosed forward'. She's a brilliant writer to both read and study." Thematically, meanwhile, it taps into something so fundamental that young readers can't help but be stirred by it. "Profound is the word I would use to describe the impact this book had on me," notes MG Leonard. "It enabled me to see darkness and light at work, through people's actions in daily life, and the courage to champion and fight for the light."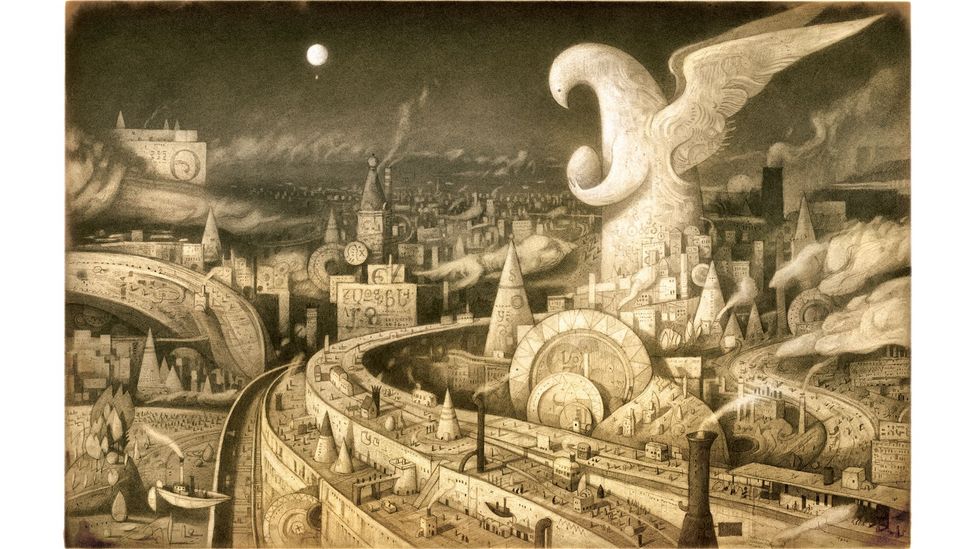 The Arrival by Shaun Tan is a wordless graphic novel depicting the emigration experience (Credit: Shaun Tan/ Lothian Children's Books / Hachette)
16. The Arrival (Shaun Tan, 2006)
The wordless graphic novel is one of 14 21st-Century books in the top 100, the power of its images appealing to voters around the world. According to Melanie Ramdarshan Bold, a senior lecturer in children's and YA literature at the University of Glasgow, Scotland, "This gorgeous wordless graphic novel really distils the emigrating/immigrating/refugee experience – the fear, suffering, loneliness, anxiety, strangeness, hopefulness, cultural and communication barriers – in a powerful and unique way. I loved the magical realism – the strange fruits, animals, buildings and transport – which really show how bizarre and alien the experience of adapting to a new environment can be." Donovan Bixley, a children's author and illustrator from New Zealand, calls The Arrival "a tour de force", praising the book for being "endlessly re-readable for all ages and brilliantly executed to allow readers from any culture to empathise with the characters". Kimberley Reynolds, Emerita Professor of children's literature at the UK's Newcastle University, says: "A timeless fable for our times: families separated by poverty and oppression, reunited in new places where they can thrive. The images powerfully evoke the confusion, loneliness and uncertainty of starting in a new country whose language, conventions and cuisine are unfamiliar. Each detail has been carefully thought about. An uplifting and unforgettable book." The images manage to convey a complicated story: "Without words it portrays the struggle of the displaced, the lost, and the lonely trying to find a new life in foreign lands," says Jim Kay, while Nii Ayikwei Parkes "fell in love with this book as a father, appreciating for the first time as an adult the incredible narrative power of illustration". Clara Kumagai sums it up: "This book has no words – and doesn't need them. In its wordlessness, young readers can create their own stories; for others it may mirror the experience of emigrating (or fleeing) to a country in which language and culture is strange and unknown. The art is gorgeous, sepia-toned and detailed, each page demanding to be lingered over."
17. Little Women (Louisa May Alcott, 1869)
"I must've read and re-read Little Women countless times," says MG Leonard. "I loved the relationships between the sisters, and saw myself in Jo. This was the first book I read to truly make me weep floods of tears. It is a wonderful book." Lillian Crawford also returns to Little Women regularly, and identifies with Jo: "Perhaps the children's book I come back to the most, as the March sisters grow older and I understand them more truly. Louisa May Alcott created the perfect book for little girls to grow into womanhood with. I will forever be a Jo." Kalpana Sunder praises the "strong female characters in a powerful tale", and Karin Lesnik-Oberstein says that Little Women is "another globally recognised and enduring classic, which is reflected in the many film versions made of it". Emerita Professor of children's literature at Newcastle University Kimberley Reynolds similarly highlights its multiple adaptations, commenting: "A genuine classic that is threaded through publishing and cinematic history. Powerful females managing at home in a wartime (civil war) context. Validation of creativity, but also of nurturing. Despite the wartime backdrop, men as well as women are shown to be empathetic and caring, and women to be courageous and strong. Life is unpredictable."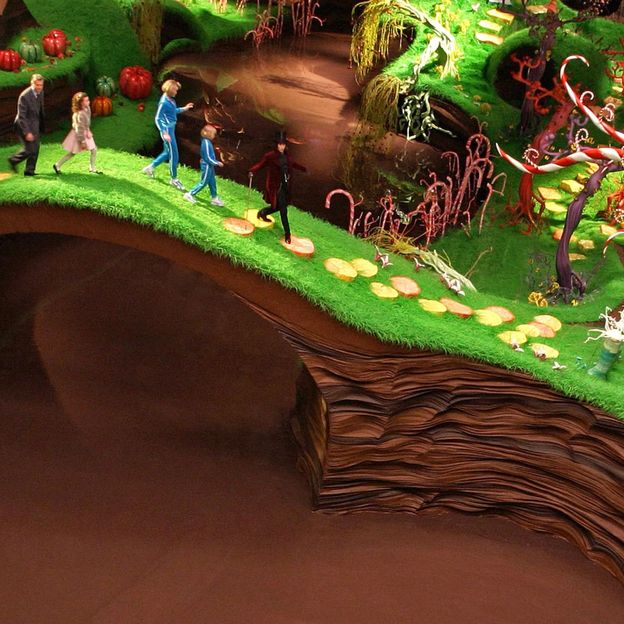 Roald Dahl's Charlie and the Chocolate Factory was adapted for the big screen in 2005 by director Tim Burton (Credit: Alamy)
18. Charlie and the Chocolate Factory (Roald Dahl, 1964)
The wit and verve of Roald Dahl's classic are a big draw for poll voters, with children's book author and illustrator Quek Hong Shin from Singapore praising it for being "a deliciously wicked story", and US author Christopher Paolini commenting that the book is "surreal, funny, and full of delightful wordplay". "All of Dahl's works are a delight in language," says children's book illustrator Sophie Casson from Canada. "Although some of the characters' stereotypical depictions are to be discussed with the children, the story absolutely jolts children in an incredible fantasy land all children connect to. You can almost smell the chocolate with Charlie. This story literally blew my mind with imagination and I was so drawn in by the duality of the personality in Willy Wonka." The illustrations are a big part of the appeal, too, as Hana Križanová says: "It was almost impossible to choose just one book from Roald Dahl, he is one of the most talented storytellers of our times. Dahl and Quentin Blake managed to create iconic stories with very simple, funny visuals that made them an unforgettable power couple."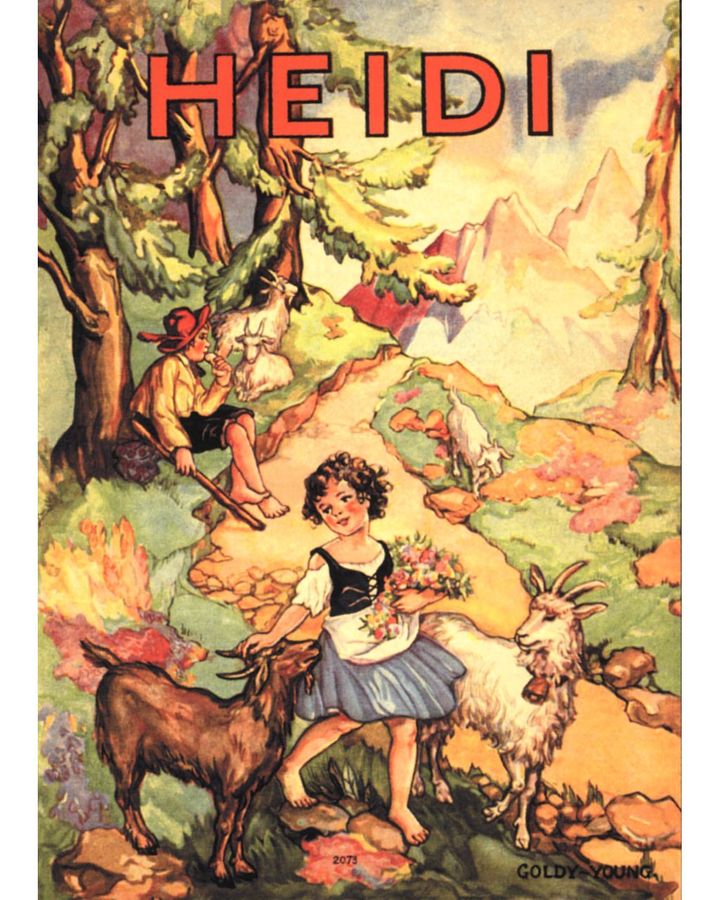 Heidi by Johanna Spyri, set in the Swiss Alps, evokes rural escape and simplicity (Credit: Alamy)

19. Heidi (Johanna Spyri, 1880)

The alpine classic is a hit with voters around the globe who appreciate its vivid evocation of landscape and compelling characters. Kalpana Sunder praises the book for being "an endearing story that takes you to the Swiss Alps, with a gruff but loving grandfather, and a childhood spent in the outdoors", while Nii Ayikwei Parkes says: "This was a book I connected with as a kid, primarily because of the goats, but the friendship between Clara and Heidi is so moving that it became a favourite." The book's rural setting draws in readers, as BBC Culture's Lindsay Baker comments: "Heidi lives on a beautiful mountainside in an attic room – the ultimate escapist fantasy." And for many, such as the British writer and arts critic Marianne Levy, that contrast with their own lives accounts for Heidi's enduring appeal. "Growing up deep in English suburbia, I was enthralled by this book's alpine meadows, and in complete agreement with little Heidi on the stifling nature of the city," she says. "Long after I was old enough to know better, it was my deepest desire to sleep in a hayloft and drink milk fresh from a goat."

20. Goodnight Moon (words by Margaret Wise Brown; illustrations by Clement Hurd, 1947)

This picture book – in which a bunny says goodnight to the objects and creatures in its bedroom – contains layers that aren't immediately apparent, according to the voters in the poll. "Originally published in 1947, Margaret Wise Brown's knowledge of child development is behind the incredible simplicity of this book," says Pam Dix. "Animate and inanimate objects play equally vital roles in the young child's world." The book's pared-back approach is deceptive, according to Giorgia Grilli at the University of Bologna, Italy: "A child's prayer. An apparently simple, yet deeply intense book on the courage it takes to close one's eyes when it is dark." Joe Sutliff Sanders from the University of Cambridge believes the book places the reader into several different roles at the same time: "A masterclass in understatement, Goodnight Moon tricks the adult reading the book into becoming a poet, a tour guide to the dwindling moments before sleep, and a naughty child, a gift for any grown-up." A balm for all ages, "it never fails to soothe and quiet a little one or a frazzled parent," says Theo Heras. And The Observer's picture book critic and News Review assistant editor Imogen Carter argues that Goodnight Moon is "simultaneously a sort of sedative in book form, and one of the wackiest children's tales ever written: the words lull and charm while the wildly beautiful colours of the illustrations blow your mind with their delightful incongruity."

Read more about BBC Culture's 100 greatest children's books:

The 100 greatest children's books
Why Where the Wild Things Are is the greatest children's book
The 21st Century's greatest children's books
Who voted?

#100GreatestChildrensBooks

If you would like to comment on this story or anything else you have seen on BBC Culture, head over to our Facebook page or message us on Twitter.

And if you liked this story, sign up for the weekly bbc.com features newsletter, called The Essential List. A handpicked selection of stories from BBC Future, Culture, Worklife and Travel, delivered to your inbox every Friday.

;